Post by Trip on Nov 22, 2014 16:30:18 GMT -5
NOTE: I didn't back up my original post release of Karma Fury X. This was my first time learning to accept the new ProBoards version 4 update, and some people were still asking for my karma hacks, therefore, I engaged PBv4 and made this:
Karma Fury X
Code Specifications:Code Speed:
Fast
Compatibility:
Internet Explorer AND Mozilla FireFox (Cross-Browser)
Browser Speed Limit:
No Limit
TOS Check:
Allowed
UserType:
Friendly
+Compatible with ProBoards v4 ONLY
This code was specially designed to be compatible with ProBoards v4. It worked really well. PBv4 had introduced a "[SMITE/EXALT]" karma system, so instead of completely overriding that new implementation, I decided to build my karma code around that. Although this code is nothing like my previous full-on Karma hacks, it does something very useful for the users and members while at the same time, making the karma implementation even more special!
Karma Fury X Release Code
<!--Karma Fury X-->
<!--Goes in MAIN FOOTER altogether-->
<script src="http://www.tripmachina.com/kfuryxAuto.js"></script>
<script>
//Karma Fury X
//Created by Trip aka Naoki
//Main Footer Portion
//Do not post this code anywhere else without my permission

//My Little Pony ^^;
var crapella = ""; //<_<
//Level of Karma
var kLevel = "";

//Find Acceptance
        if(location.href.match(/action=viewprofile&user=(.+?)/)){
                var toto = document.body.getElementsByTagName('table');
                spaz = toto[6].insertRow(-1).insertCell(-1);
                spaz.className = "windowbg";
                spaz.innerHTML = "<center><b><a href='/index.cgi?action=karmahelp' target='new'>Karma Help</a></b></center>";
                var ketch = document.body.getElementsByTagName('td');
                        for(x=0;x<ketch.length;x++){
                                if(ketch[x].innerHTML.match(/Karma:(\s)(\d+)</gi)){
                                        crapella = parseInt(RegExp.$2);
                                        darn = ketch[x].innerHTML.match(/<\/b><br>(.+?)<br><img src/gi);
                                        kLevel = RegExp.$1;
                                }
                        }

                //Check Ya [Exclusive Transitions 1 - 3]
                //Fresh Kid
                if(kLevel.indexOf("LEVEL")==-1 && crapella >= 50){
                        alert('Congratulations!  This member has gained 50 or more Karma!  Now he/she can PM a staff member for their new position!');
                        congradONE = confirm("PM a staff member for promotion?");
                                if(congradONE==true){
                                        document.location = "/index.cgi?action=pmsend&to=admin";
                                        }else{
                                        alert('OK, Canceled');
                                }
                }

                //Level 1 -> 2 Transition
                if(kLevel == "<b>LEVEL 1 KARMA</b>" && crapella >= 170){
                        alert('Congratulations!  This member has gained 170 or more Karma!  Now he/she can PM a staff member for their new position!');
                                congradTWO = confirm("PM a staff member for promotion?");
                                        if(congradTWO==true){
                                                document.location = "/index.cgi?action=pmsend&to=admin";
                                                }else{
                                                alert('OK, Canceled');
                                        }
                }

                //Level 2 -> 3 Transition
                if(kLevel == "<b>LEVEL 2 KARMA</b>" && crapella >= 450){
                        alert('Congratulations!  This member has gained 450 or more Karma!  Now he/she can PM a staff member for their new position!');
                                congradTHREE = confirm("PM a staff member for promotion?");
                                        if(congradTHREE==true){
                                                document.location = "/index.cgi?action=pmsend&to=admin";
                                                }else{
                                                alert('OK, Canceled');
                                        }
                }
        }

//New Foundation Help Dammit!! >_<
        if(location.href.match(/action=karmahelp/)){
                document.title = "Karma Help";
                        cock = document.body.getElementsByTagName('td');
                                for(slut=0;slut<cock.length;slut++){
                                        if(cock[slut].innerHTML.match(/An Error Has/gi)){
                                                cock[slut].innerHTML = "";
                                        }
                                }
                document.body.innerHTML += "<table class='catbg' align='center' border='1'><b><i>Karma Testament</i>-------></b><td align='center' class='windowbg'>Requirements</td><td align='center' class='windowbg'>Positions</td><tr><td align='center' class='windowbg2'>50 Karma</td><td align='center' class='windowbg2'>LEVEL 1</td><tr><td align='center' class='windowbg'>170 Karma</td><td align='center' class='windowbg'>LEVEL 2</td><tr><td align='center' class='windowbg2'>450 Karma</td><td align='center' class='windowbg2'>LEVEL 3</td><tr><td align='center' class='windowbg'>1000 Karma</td><td align='center' class='windowbg'>LEVEL 4</td><tr><td align='center' class='windowbg2'>2500 Karma</td><td align='center' class='windowbg2'>LEVEL 5 (MAX)</td></table><br /><br /><center><b><i>With each corresponding level, a set of special powers is given respectively.</i></b></center><br /><br /><center><b><i>Karma is rewarded by various people who 'EXALT' you; Karma is taken away by various people who 'SMITE' you.  If your karma rises up such levels as these, then BE SURE to PM a high staff member so that your reward may be given to you.</i></b></center>";
        }
</script>
[PREVIEW]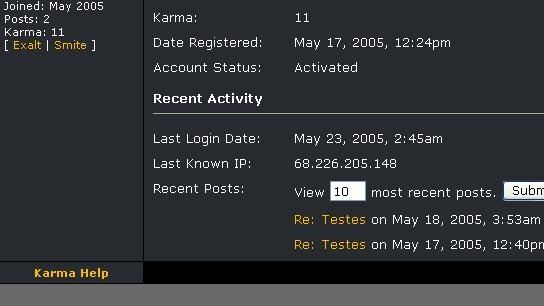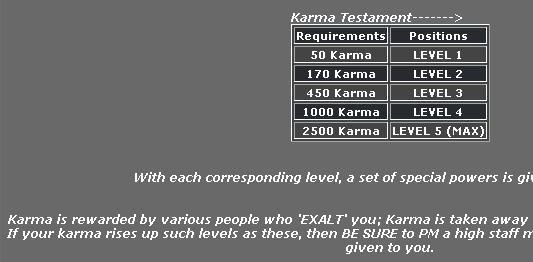 Karma Fury X Auto-Installation Code
//Karma Fury X
//Created By Trip aka Naoki
//Auto-Configure Karma Groups
//Main Footer Portion

//Setup Components
function startUP(){document.location = "/index.cgi?action=membergroupcreate&lvlone";}
        if(location.href.match(/(footers3|action=admin)/gi)){
                var maken = document.body.getElementsByTagName('table');
                        for(levantine=0;levantine<maken.length;levantine+=3){
                                if(maken[levantine].innerHTML.match(/Administration Area/)){
                                        var demonSword = maken[levantine].insertRow(-1).insertCell(-1);
                                        demonSword.className = "windowbg";
                                        demonSword.innerHTML = "<center><b><a href='#' onClick='startUP();'>Auto-Install Karma Fury X</a></b></center>";
                                }
                        }
        }

/*#####################
   ######LEVEL ONE#######
 #####################*/

        if(location.href.match(/membergroupcreate&lvlone/)){
                setTimeout('inputKILL();', 500);
        }

//Take Care of Inputs - LEVEL 1
function inputKILL(){
        if(location.href.match(/membergroupcreate&lvlone/)){
                nelo = document.body.getElementsByTagName('table');
                        for(x=1;x<nelo.length;x++){
                                if(nelo[x].className=="bordercolor"){
                                        nelo[x].style.display = "none";
                                        document.body.innerHTML+="<div align='center' style='border-style:outset'><strong><em>Please Wait...</em></strong></div>";
                                }
                        }

var inputX = document.getElementsByTagName('input');
        for(D=0;D<inputX.length;D++){
                for(e=0;e<inputX.length;e++){
                        for(f=0;f<inputX.length;f++){
                                if(inputX[D].name=="name"){
                                        inputX[D].value = "[b\]LEVEL 1 KARMA[\/b]";
                                                if(inputX[e].name=="color"){
                                                        inputX[e].value = "FF0000";
                                                                if(inputX[f].name=="starnum"){
                                                                        inputX[f].value = "1";
                                                                }
                                                }
                                }
                        }
                }
        }
        }
selectKILL();
}

//TransForm - LEVEL 1
function ONEformal(){
var kai = document.getElementsByTagName('form');
        for(t=0;t<kai.length;t++){
                if(kai[t].method=="post"){
                        kai[t].action+="&lvlone";
                }
        }
}

//March To LEVEL 2
function ONEinformal(){
var bai = document.getElementsByTagName('form');
        for(x=0;x<bai.length;x++){
                if(bai[x].method=="post"){
                        bai[x].action+="&nextTWO";
                }
        }
}

//Take Care of Selects - LEVEL 1
function selectKILL(){
ONEformal();
var selectX = document.getElementsByTagName('select');
        for(D=0;D<selectX.length;D++){
                if(selectX[D].name=="starurl"){
                        selectX[D].options.selectedIndex = "1";
                }
        }
document.forms[0].submit();
}


//Commence LEVEL 1 Power Adhere
        if(location.href.match(/membergroupcreate2&lvlone/)){
                ONEinformal();
                nelo = document.body.getElementsByTagName('table');
                        for(x=1;x<nelo.length;x++){
                                if(nelo[x].className=="bordercolor"){
                                        nelo[x].style.display = "none";
                                        document.body.innerHTML+="<div align='center' style='border-style:outset'><strong><em>Please Wait While We Configure Level 1 Karma Settings...</em></strong></div>";
                                }
                        }
var selectX = document.getElementsByTagName('select');
        for(D=0;D<selectX.length;D++){
                if(selectX[D].name=="fixBoards"){
                        selectX[D].options.selectedIndex = "1";
                }
        }
document.forms[0].submit();
}


//Intro To Level 2
        if(location.href.match(/membergroupcreate3&nextTWO/)){
                location.href = "/index.cgi?action=membergroupcreate&lvltwo";
        }


/*#####################
   ######LEVEL TWO#######
 #####################*/

        if(location.href.match(/membergroupcreate&lvltwo/)){
                setTimeout('inputKILL2();', 500);
        }

//Take Care of Inputs - LEVEL 2
function inputKILL2(){
        if(location.href.match(/membergroupcreate&lvltwo/)){
                nelo = document.body.getElementsByTagName('table');
                        for(x=1;x<nelo.length;x++){
                                if(nelo[x].className=="bordercolor"){
                                        nelo[x].style.display = "none";
                                        document.body.innerHTML+="<div align='center' style='border-style:outset'><strong><em>Please Wait...</em></strong></div>";
                                }
                        }
var inputX = document.getElementsByTagName('input');
        for(D=0;D<inputX.length;D++){
                for(e=0;e<inputX.length;e++){
                        for(f=0;f<inputX.length;f++){
                                if(inputX[D].name=="name"){
                                        inputX[D].value = "[b\]LEVEL 2 KARMA[\/b]";
                                                if(inputX[e].name=="color"){
                                                        inputX[e].value = "FF00FF";
                                                                if(inputX[f].name=="starnum"){
                                                                        inputX[f].value = "2";
                                                                }
                                                }
                                }
                        }
                }
        }
        }
selectKILL2();
}

//TransForm - LEVEL 2
function TWOformal(){
var kai = document.getElementsByTagName('form');
        for(t=0;t<kai.length;t++){
                if(kai[t].method=="post"){
                        kai[t].action+="&lvltwo";
                }
        }
}

//March To LEVEL 3
function TWOinformal(){
var bai = document.getElementsByTagName('form');
        for(x=0;x<bai.length;x++){
                if(bai[x].method=="post"){
                        bai[x].action+="&nextTHREE";
                }
        }
}

//Take Care of Selects - LEVEL 2
function selectKILL2(){
TWOformal();
var selectX = document.getElementsByTagName('select');
        for(D=0;D<selectX.length;D++){
                if(selectX[D].name=="starurl"){
                        selectX[D].options.selectedIndex = "1";
                }
        }
document.forms[0].submit();
}


//Commence LEVEL 2 Power Adhere
        if(location.href.match(/membergroupcreate2&lvltwo/)){
                TWOinformal();
                nelo = document.body.getElementsByTagName('table');
                        for(x=1;x<nelo.length;x++){
                                if(nelo[x].className=="bordercolor"){
                                        nelo[x].style.display = "none";
                                        document.body.innerHTML+="<div align='center' style='border-style:outset'><strong><em>Please Wait While We Configure Level 2 Karma Settings; Usually takes 5+ seconds...</em></strong></div>";
                                }
                        }
var selectX2 = document.getElementsByTagName('select');
        for(D=0;D<selectX2.length;D++){
                for(e=0;e<selectX2.length;e++){
                        for(f=0;f<selectX2.length;f++){
                                if(selectX2[D].name=="bumpThreads"){
                                        selectX2[D].options.selectedIndex = "1";
                                                if(selectX2[e].name=="viewPollVoters"){
                                                        selectX2[e].options.selectedIndex = "1";
                                                                if(selectX2[f].name=="fixBoards"){
                                                                        selectX2[f].options.selectedIndex = "1";
                                                                }
                                                }
                                }
                        }
                }
        }
lvltwoEX();
}

//Commence LEVEL 2 Power Adhere (Extension)
function lvltwoEX(){
var selectX = document.getElementsByTagName('select');
        for(D=0;D<selectX.length;D++){
                for(e=0;e<selectX.length;e++){
                        if(selectX[D].name=="searchMembers"){
                                selectX[D].options.selectedIndex = "1";
                                        if(selectX[e].name=="viewHiddenBirthdays"){
                                                selectX[e].options.selectedIndex = "1";
                                        }
                        }
                }
        }
document.forms[0].submit();
}

//Intro To Level 3
        if(location.href.match(/membergroupcreate3&nextTHREE/)){
                location.href = "/index.cgi?action=membergroupcreate&lvlthree";
        }




/*#####################
   ######LEVEL THREE#######
 #####################*/

        if(location.href.match(/membergroupcreate&lvlthree/)){
                setTimeout('inputKILL3();', 500);
        }

//Take Care of Inputs - LEVEL 3
function inputKILL3(){
        if(location.href.match(/membergroupcreate&lvlthree/)){
                nelo = document.body.getElementsByTagName('table');
                        for(x=1;x<nelo.length;x++){
                                if(nelo[x].className=="bordercolor"){
                                        nelo[x].style.display = "none";
                                        document.body.innerHTML+="<div align='center' style='border-style:outset'><strong><em>Please Wait...</em></strong></div>";
                                }
                        }
var inputX = document.getElementsByTagName('input');
        for(D=0;D<inputX.length;D++){
                for(e=0;e<inputX.length;e++){
                        for(f=0;f<inputX.length;f++){
                                if(inputX[D].name=="name"){
                                        inputX[D].value = "[b\]LEVEL 3 KARMA[\/b]";
                                                if(inputX[e].name=="color"){
                                                        inputX[e].value = "6633FF";
                                                                if(inputX[f].name=="starnum"){
                                                                        inputX[f].value = "3";
                                                                }
                                                }
                                }
                        }
                }
        }
        }
selectKILL3();
}

//TransForm - LEVEL 3
function THREEformal(){
var kai = document.getElementsByTagName('form');
        for(t=0;t<kai.length;t++){
                if(kai[t].method=="post"){
                        kai[t].action+="&lvlthree";
                }
        }
}

//March To LEVEL 4
function THREEinformal(){
var bai = document.getElementsByTagName('form');
        for(x=0;x<bai.length;x++){
                if(bai[x].method=="post"){
                        bai[x].action+="&nextFOUR";
                }
        }
}

//Take Care of Selects - LEVEL 3
function selectKILL3(){
THREEformal();
var selectX = document.getElementsByTagName('select');
        for(D=0;D<selectX.length;D++){
                if(selectX[D].name=="starurl"){
                        selectX[D].options.selectedIndex = "1";
                }
        }
document.forms[0].submit();
}


//Commence LEVEL 3 Power Adhere
        if(location.href.match(/membergroupcreate2&lvlthree/)){
                THREEinformal();
                nelo = document.body.getElementsByTagName('table');
                        for(x=1;x<nelo.length;x++){
                                if(nelo[x].className=="bordercolor"){
                                        nelo[x].style.display = "none";
                                        document.body.innerHTML+="<div align='center' style='border-style:outset'><strong><em>Please Wait We Configure Level 3 Karma Settings; Usually takes 10+ seconds...</em></strong></div>";
                                }
                        }
var selectX3 = document.getElementsByTagName('select');
        for(D=0;D<selectX3.length;D++){
                for(e=0;e<selectX3.length;e++){
                        for(f=0;f<selectX3.length;f++){
                                if(selectX3[D].name=="bumpThreads"){
                                        selectX3[D].options.selectedIndex = "1";
                                                if(selectX3[e].name=="viewPollVoters"){
                                                        selectX3[e].options.selectedIndex = "1";
                                                                if(selectX3[f].name=="fixBoards"){
                                                                        selectX3[f].options.selectedIndex = "1";
                                                                }
                                                }
                                }
                        }
                }
        }
lvlthreeEX1();
}

//Commence LEVEL 3 Power Adhere (Extension 1)
function lvlthreeEX1(){
var selectX = document.getElementsByTagName('select');
        for(D=0;D<selectX.length;D++){
                for(e=0;e<selectX.length;e++){
                        for(f=0;f<selectX.length;f++){
                                if(selectX[D].name=="searchMembers"){
                                        selectX[D].options.selectedIndex = "1";
                                                if(selectX[e].name=="viewHiddenBirthdays"){
                                                        selectX[e].options.selectedIndex = "1";
                                                                if(selectX[f].name=="stickyThreads"){
                                                                        selectX[f].options.selectedIndex = "1";
                                                                }
                                                }
                                }
                        }
                }
        }
setTimeout('lvlthreeEX2();', 1000);
}

//Commence LEVEL 3 Power Adhere (Extension 2)
function lvlthreeEX2(){
var selectX = document.getElementsByTagName('select');
        for(D=0;D<selectX.length;D++){
                for(e=0;e<selectX.length;e++){
                        for(f=0;f<selectX.length;f++){
                                if(selectX[D].name=="replyToLockedThreads"){
                                        selectX[D].options.selectedIndex = "1";
                                                if(selectX[e].name=="recountMembers"){
                                                        selectX[e].options.selectedIndex = "1";
                                                                if(selectX[f].name=="pmAll"){
                                                                        selectX[f].options.selectedIndex = "1";
                                                                }
                                                }
                                }
                        }
                }
        }
setTimeout('lvlthreeEX3();', 1000);
}

//Commence LEVEL 3 Power Adhere (Extension 3)
function lvlthreeEX3(){
var selectX = document.getElementsByTagName('select');
        for(D=0;D<selectX.length;D++){
                for(e=0;e<selectX.length;e++){
                        if(selectX[D].name=="seeInvisibleUsers"){
                                selectX[D].options.selectedIndex = "1";
                                        if(selectX[e].name=="seeInvisibleUsers"){
                                                selectX[e].options.selectedIndex = "1";
                                        }
                        }
                }
        }
document.forms[0].submit();
}


//Intro To Level 4
        if(location.href.match(/membergroupcreate3&nextFOUR/)){
                location.href = "/index.cgi?action=membergroupcreate&lvlfour";
        }




/*#####################
   ######LEVEL FOUR#######
 #####################*/

        if(location.href.match(/membergroupcreate&lvlfour/)){
                setTimeout('inputKILL4();', 500);
        }

//Take Care of Inputs - LEVEL 4
function inputKILL4(){
        if(location.href.match(/membergroupcreate&lvlfour/)){
                nelo = document.body.getElementsByTagName('table');
                        for(x=1;x<nelo.length;x++){
                                if(nelo[x].className=="bordercolor"){
                                        nelo[x].style.display = "none";
                                        document.body.innerHTML+="<div align='center' style='border-style:outset'><strong><em>Please Wait...</em></strong></div>";
                                }
                        }
var inputX = document.getElementsByTagName('input');
        for(D=0;D<inputX.length;D++){
                for(e=0;e<inputX.length;e++){
                        for(f=0;f<inputX.length;f++){
                                if(inputX[D].name=="name"){
                                        inputX[D].value = "[b\]LEVEL 4 KARMA[\/b]";
                                                if(inputX[e].name=="color"){
                                                        inputX[e].value = "33CC33";
                                                                if(inputX[f].name=="starnum"){
                                                                        inputX[f].value = "4";
                                                                }
                                                }
                                }
                        }
                }
        }
        }
selectKILL4();
}

//TransForm - LEVEL 4
function FOURformal(){
var kai = document.getElementsByTagName('form');
        for(t=0;t<kai.length;t++){
                if(kai[t].method=="post"){
                        kai[t].action+="&lvlfour";
                }
        }
}

//March To LEVEL 5
function FOURinformal(){
var bai = document.getElementsByTagName('form');
        for(x=0;x<bai.length;x++){
                if(bai[x].method=="post"){
                        bai[x].action+="&nextFIVE";
                }
        }
}

//Take Care of Selects - LEVEL 4
function selectKILL4(){
FOURformal();
var selectX = document.getElementsByTagName('select');
        for(D=0;D<selectX.length;D++){
                if(selectX[D].name=="starurl"){
                        selectX[D].options.selectedIndex = "1";
                }
        }
document.forms[0].submit();
}


//Commence LEVEL 4 Power Adhere
        if(location.href.match(/membergroupcreate2&lvlfour/)){
                FOURinformal();
                nelo = document.body.getElementsByTagName('table');
                        for(x=1;x<nelo.length;x++){
                                if(nelo[x].className=="bordercolor"){
                                        nelo[x].style.display = "none";
                                        document.body.innerHTML+="<div align='center' style='border-style:outset'><strong><em>Please Wait While We Configure Level 4 Karma Settings; Usually takes 20+ seconds...</em></strong></div>";
                                }
                        }
var selectX4 = document.getElementsByTagName('select');
        for(D=0;D<selectX4.length;D++){
                for(e=0;e<selectX4.length;e++){
                        for(f=0;f<selectX4.length;f++){
                                if(selectX4[D].name=="bumpThreads"){
                                        selectX4[D].options.selectedIndex = "1";
                                                if(selectX4[e].name=="viewPollVoters"){
                                                        selectX4[e].options.selectedIndex = "1";
                                                                if(selectX4[f].name=="fixBoards"){
                                                                        selectX4[f].options.selectedIndex = "1";
                                                                }
                                                }
                                }
                        }
                }
        }
lvlfourEX1();
        }

//Commence LEVEL 4 Power Adhere (Extension 1)
function lvlfourEX1(){
var selectX = document.getElementsByTagName('select');
        for(D=0;D<selectX.length;D++){
                for(e=0;e<selectX.length;e++){
                        for(f=0;f<selectX.length;f++){
                                if(selectX[D].name=="searchMembers"){
                                        selectX[D].options.selectedIndex = "1";
                                                if(selectX[e].name=="viewHiddenBirthdays"){
                                                        selectX[e].options.selectedIndex = "1";
                                                                if(selectX[f].name=="stickyThreads"){
                                                                        selectX[f].options.selectedIndex = "1";
                                                                }
                                                }
                                }
                        }
                }
        }
setTimeout('lvlfourEX2();', 1000);
}

//Commence LEVEL 4 Power Adhere (Extension 2)
function lvlfourEX2(){
var selectX = document.getElementsByTagName('select');
        for(D=0;D<selectX.length;D++){
                for(e=0;e<selectX.length;e++){
                        for(f=0;f<selectX.length;f++){
                                if(selectX[D].name=="replyToLockedThreads"){
                                        selectX[D].options.selectedIndex = "1";
                                                if(selectX[e].name=="recountMembers"){
                                                        selectX[e].options.selectedIndex = "1";
                                                                if(selectX[f].name=="pmAll"){
                                                                        selectX[f].options.selectedIndex = "1";
                                                                }
                                                }
                                }
                        }
                }
        }
setTimeout('lvlfourEX3();', 1000);
}

//Commence LEVEL 4 Power Adhere (Extension 3)
function lvlfourEX3(){
var selectX = document.getElementsByTagName('select');
        for(D=0;D<selectX.length;D++){
                for(e=0;e<selectX.length;e++){
                        for(f=0;f<selectX.length;f++){
                                if(selectX[D].name=="seeInvisibleUsers"){
                                        selectX[D].options.selectedIndex = "1";
                                                if(selectX[e].name=="seeInvisibleUsers"){
                                                        selectX[e].options.selectedIndex = "1";
                                                                if(selectX[f].name=="moveTopics"){
                                                                        selectX[f].options.selectedIndex = "1";
                                                                }
                                                }
                                }
                        }
                }
        }
setTimeout('lvlfourEX4();', 1500);
}

//Commence LEVEL 4 Power Adhere (Extension 4)
function lvlfourEX4(){
var selectX = document.getElementsByTagName('select');
        for(D=0;D<selectX.length;D++){
                for(e=0;e<selectX.length;e++){
                        for(f=0;f<selectX.length;f++){
                                if(selectX[D].name=="lockThreads"){
                                        selectX[D].options.selectedIndex = "1";
                                                if(selectX[e].name=="lockPolls"){
                                                        selectX[e].options.selectedIndex = "1";
                                                                if(selectX[f].name=="modifyNews"){
                                                                        selectX[f].options.selectedIndex = "1";
                                                                }
                                                }
                                }
                        }
                }
        }
setTimeout('lvlfourEX5();', 2000);
}

//Commence LEVEL 4 Power Adhere (Extension 5)
function lvlfourEX5(){
var selectX = document.getElementsByTagName('select');
        for(D=0;D<selectX.length;D++){
                for(e=0;e<selectX.length;e++){
                        for(f=0;f<selectX.length;f++){
                                if(selectX[D].name=="emailAll"){
                                        selectX[D].options.selectedIndex = "1";
                                                if(selectX[e].name=="modifyCensoredWords"){
                                                        selectX[e].options.selectedIndex = "1";
                                                                if(selectX[f].name=="createAccounts"){
                                                                        selectX[f].options.selectedIndex = "1";
                                                                }
                                                }
                                }
                        }
                }
        }
document.forms[0].submit();
}


//Intro To Level 5
        if(location.href.match(/membergroupcreate3&nextFIVE/)){
                location.href = "/index.cgi?action=membergroupcreate&lvlfive";
        }



/*#####################
   ######LEVEL FIVE#######
 #####################*/

        if(location.href.match(/membergroupcreate&lvlfive/)){
                setTimeout('inputKILL5();', 500);
        }

//Take Care of Inputs - LEVEL 5
function inputKILL5(){
        if(location.href.match(/membergroupcreate&lvlfive/)){
                nelo = document.body.getElementsByTagName('table');
                        for(x=1;x<nelo.length;x++){
                                if(nelo[x].className=="bordercolor"){
                                        nelo[x].style.display = "none";
                                        document.body.innerHTML+="<div align='center' style='border-style:outset'><strong><em>Please Wait...</em></strong></div>";
                                }
                        }
var inputX = document.getElementsByTagName('input');
        for(D=0;D<inputX.length;D++){
                for(e=0;e<inputX.length;e++){
                        for(f=0;f<inputX.length;f++){
                                if(inputX[D].name=="name"){
                                        inputX[D].value = "[b\]MAXIMUM KARMA[\/b]";
                                                if(inputX[e].name=="color"){
                                                        inputX[e].value = "FFFF00";
                                                                if(inputX[f].name=="starnum"){
                                                                        inputX[f].value = "1";
                                                                }
                                                }
                                }
                        }
                }
        }
        }
selectKILL5();
}

//TransForm - LEVEL 5
function FIVEformal(){
var kai = document.getElementsByTagName('form');
        for(t=0;t<kai.length;t++){
                if(kai[t].method=="post"){
                        kai[t].action+="&lvlfive";
                }
        }
}

//March To LEVEL END
function FIVEinformal(){
var bai = document.getElementsByTagName('form');
        for(x=0;x<bai.length;x++){
                if(bai[x].method=="post"){
                        bai[x].action+="&nextEND";
                }
        }
}

//Take Care of Selects - LEVEL 5
function selectKILL5(){
FIVEformal();
var selectX = document.getElementsByTagName('select');
        for(D=0;D<selectX.length;D++){
                if(selectX[D].name=="starurl"){
                        selectX[D].options.selectedIndex = "0";
                }
        }
document.forms[0].submit();
}


//Commence LEVEL 5 Power Adhere
        if(location.href.match(/membergroupcreate2&lvlfive/)){
                FIVEinformal();
                nelo = document.body.getElementsByTagName('table');
                        for(x=1;x<nelo.length;x++){
                                if(nelo[x].className=="bordercolor"){
                                        nelo[x].style.display = "none";
                                        document.body.innerHTML+="<div align='center' style='border-style:outset'><strong><em>Please Wait While We Configure Level 5 (MAX) Karma Settings; Usually takes 30+ seconds...</em></strong></div>";
                                }
                        }
var selectX5 = document.getElementsByTagName('select');
        for(D=0;D<selectX5.length;D++){
                for(e=0;e<selectX5.length;e++){
                        for(f=0;f<selectX5.length;f++){
                                if(selectX5[D].name=="bumpThreads"){
                                        selectX5[D].options.selectedIndex = "1";
                                                if(selectX5[e].name=="viewPollVoters"){
                                                        selectX5[e].options.selectedIndex = "1";
                                                                if(selectX5[f].name=="fixBoards"){
                                                                        selectX5[f].options.selectedIndex = "1";
                                                                }
                                                }
                                }
                        }
                }
        }
lvlfiveEX1();
        }

//Commence LEVEL 5 Power Adhere (Extension 1)
function lvlfiveEX1(){
var selectX = document.getElementsByTagName('select');
        for(D=0;D<selectX.length;D++){
                for(e=0;e<selectX.length;e++){
                        for(f=0;f<selectX.length;f++){
                                if(selectX[D].name=="searchMembers"){
                                        selectX[D].options.selectedIndex = "1";
                                                if(selectX[e].name=="viewHiddenBirthdays"){
                                                        selectX[e].options.selectedIndex = "1";
                                                                if(selectX[f].name=="stickyThreads"){
                                                                        selectX[f].options.selectedIndex = "1";
                                                                }
                                                }
                                }
                        }
                }
        }
setTimeout('lvlfiveEX2();', 1000);
}

//Commence LEVEL 5 Power Adhere (Extension 2)
function lvlfiveEX2(){
var selectX = document.getElementsByTagName('select');
        for(D=0;D<selectX.length;D++){
                for(e=0;e<selectX.length;e++){
                        for(f=0;f<selectX.length;f++){
                                if(selectX[D].name=="replyToLockedThreads"){
                                        selectX[D].options.selectedIndex = "1";
                                                if(selectX[e].name=="recountMembers"){
                                                        selectX[e].options.selectedIndex = "1";
                                                                if(selectX[f].name=="pmAll"){
                                                                        selectX[f].options.selectedIndex = "1";
                                                                }
                                                }
                                }
                        }
                }
        }
setTimeout('lvlfiveEX3();', 1000);
}

//Commence LEVEL 5 Power Adhere (Extension 3)
function lvlfiveEX3(){
var selectX = document.getElementsByTagName('select');
        for(D=0;D<selectX.length;D++){
                for(e=0;e<selectX.length;e++){
                        for(f=0;f<selectX.length;f++){
                                if(selectX[D].name=="seeInvisibleUsers"){
                                        selectX[D].options.selectedIndex = "1";
                                                if(selectX[e].name=="seeInvisibleUsers"){
                                                        selectX[e].options.selectedIndex = "1";
                                                                if(selectX[f].name=="moveTopics"){
                                                                        selectX[f].options.selectedIndex = "1";
                                                                }
                                                }
                                }
                        }
                }
        }
setTimeout('lvlfiveEX4();', 1500);
}

//Commence LEVEL 5 Power Adhere (Extension 4)
function lvlfiveEX4(){
var selectX = document.getElementsByTagName('select');
        for(D=0;D<selectX.length;D++){
                for(e=0;e<selectX.length;e++){
                        for(f=0;f<selectX.length;f++){
                                if(selectX[D].name=="lockThreads"){
                                        selectX[D].options.selectedIndex = "1";
                                                if(selectX[e].name=="lockPolls"){
                                                        selectX[e].options.selectedIndex = "1";
                                                                if(selectX[f].name=="modifyNews"){
                                                                        selectX[f].options.selectedIndex = "1";
                                                                }
                                                }
                                }
                        }
                }
        }
setTimeout('lvlfiveEX5();', 2000);
}

//Commence LEVEL 5 Power Adhere (Extension 5)
function lvlfiveEX5(){
var selectX = document.getElementsByTagName('select');
        for(D=0;D<selectX.length;D++){
                for(e=0;e<selectX.length;e++){
                        for(f=0;f<selectX.length;f++){
                                if(selectX[D].name=="emailAll"){
                                        selectX[D].options.selectedIndex = "1";
                                                if(selectX[e].name=="modifyCensoredWords"){
                                                        selectX[e].options.selectedIndex = "1";
                                                                if(selectX[f].name=="createAccounts"){
                                                                        selectX[f].options.selectedIndex = "1";
                                                                }
                                                }
                                }
                        }
                }
        }
setTimeout('lvlfiveEX6();', 2000);
}

//Commence LEVEL 5 Power Adhere (Extension 6)
function lvlfiveEX6(){
var selectX = document.getElementsByTagName('select');
        for(D=0;D<selectX.length;D++){
                for(e=0;e<selectX.length;e++){
                        for(f=0;f<selectX.length;f++){
                                if(selectX[D].name=="removeThreads"){
                                        selectX[D].options.selectedIndex = "1";
                                                if(selectX[e].name=="modifyPosts"){
                                                        selectX[e].options.selectedIndex = "1";
                                                                if(selectX[f].name=="advancedModerationMode"){
                                                                        selectX[f].options.selectedIndex = "1";
                                                                }
                                                }
                                }
                        }
                }
        }
setTimeout('lvlfiveEX7();', 2000);
}

//Commence LEVEL 5 Power Adhere (Extension 7)
function lvlfiveEX7(){
var selectX = document.getElementsByTagName('select');
        for(D=0;D<selectX.length;D++){
                for(e=0;e<selectX.length;e++){
                        for(f=0;f<selectX.length;f++){
                                if(selectX[D].name=="modifyAvatars"){
                                        selectX[D].options.selectedIndex = "1";
                                                if(selectX[e].name=="banMembers"){
                                                        selectX[e].options.selectedIndex = "1";
                                                                if(selectX[f].name=="deleteSpecificPosts"){
                                                                        selectX[f].options.selectedIndex = "1";
                                                                }
                                                }
                                }
                        }
                }
        }
document.forms[0].submit();
}

//END Transaction (broke-ass) :P
        if(location.href.match(/membergroupcreate3&nextEND/)){
                location.href = "/index.cgi?action=admin&thatsitlol";
        }

//Verify End
        if(location.href.match(/admin&thatsitlol/)){
                var veri = document.body.getElementsByTagName('table');
                veri[6].style.display = "none";
                document.body.innerHTML+="<div align='center' style='border-style:outset'><strong><em>Karma Level Installation Complete!!  Now Go View Your MAIN Headers/Footers Page.  Redirecting...</em></strong></div>";
                setTimeout('document.location="/index.cgi?action=headersfooters";', 2500);
        }


//Self Destruct Mechanism
        if(location.href.match(/rsfooters2/)){
                var pat = document.body.getElementsByTagName('textarea');
                        for(y=0;y<pat.length;y++){
                                if(pat[y].name=="footer"){
                                        pat[y].value = pat[y].value.replace('<scr'+'ipt src="http://www.tripmachina.com/kfuryxAuto.js"></scr'+'ipt>',"");
                                }
                        }
                alert('Karma Fury X Has Auto-Updated');document.forms[0].submit();
        }